Community
We contribute to the sustainable development of residential areas where our service stations are located. We also support social initiatives that have an impact on the Suriname community. Together, we make the future beautiful.
Sports and exercise
Sports and exercise have a positive influence on the health and learning performance of children.
To contribute to physical education, we provided three Mainstream Primary Education (GLO – Dutch abbreviation) schools, St. Lidwina School, St. Herman Jozef School and O.S. [public school] Mayo School, in Latour with new sports equipment in March 2022.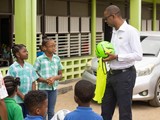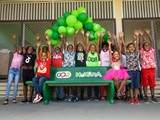 Concrete benches for O.S. (public school) Lobato school
In December 2021, we donated eight green concrete benches to the O.S. Lobato School in Beekhuizen.
In order to make the pupils more aware of the MOHANA rules, these have been indicated on the benches in a child-friendly manner with pictograms.